Synopsis
IN THE PRE-DAWN HOURS of October 19, 1998, a commando-style arson destroyed or damaged $12 million worth of chair lifts and mountaintop buildings at Vail, Colorado, the largest ski resort in the United States. The timing of the fires indicated a calculated attack, since the fires were set on the same day the ski area' just as owners were about to begin construction for a controversial expansion into an old-growth forest on federally-owned land. Within days, an email arrived from a little-known radical environmental group known as the Earth Liberation Front, claiming credit for the arson "in the name of the lynx," a rare species whose habitat was disappearing in this rapidly developing part of Colorado. But the ELF "claim of credit was never substantiated, and the number of potential suspects grew in direct proportion to the number of enemies that the ski area" owners had made.
Powder Burn is the story of a particular kind of trouble in paradise. At the time of the fires, Vail and its environs had becom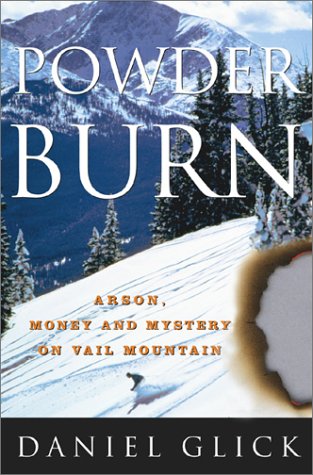 e a powder keg of social and economic unrest, and much of the tension revolved around the locals' frustration with Vail Resorts, Inc., the company that owns Vail ski area and neighboring Beaver Creek. Run by a group of Wall Street financiers, the company had also purchased two other high-profile Colorado resorts, Breckenridge and Keystone, and its expanding reach prompted many locals to begin calling it "the Evil Empire." Among its adversaries "and potential arson suspects" were the ski bums sick of Vail" corporate mentality; fearful small business owners; nearby towns that had fought Vail over water rights, disgruntled former employees; and folks in the Eagle Valley who saw their quality of life diminish with every golf course and high-end subdivision that Vail aggressively attracted or built. Some even suggested that the company might have set the fires themselves as a way to garner sympathy' especially after it rebuilt the lost buildings bigger and better and collected on other insurance policies as well. "Who couldn't have done this?" a local sheriff's deputy told federal investigators. "The list of people pissed off at [Vail's owners] is pretty long."
Daniel Glick takes readers on a compelling and wild ride through this bizarre town full of bombastic characters to lay bare the growing pains of a breathtakingly beautiful region. In the 40 years since Vail's founding fathers literally carved the resort out of a high-altitude lettuce patch, the resort's fortunes have mirrored the fortunes of what has become known as the "New West," as well as the "new economy'" run by modem cowboys and lifestyle refugees. Vail has been in the vanguard of the tremendous social, cultural and economic changes that have transformed the Rocky Mountain West, displacing the ranchers, miners and loggers in favor of the multinational corporations and Fortune 500 executives who visit their 12,000-square-foot trophy homes only a couple weeks out of the year.
Packed with odd characters and paranoia, with beautiful mountains and despicable actions, this is a book about crime, the environment, a small town, and an unsolved mystery. Powder Burn reads as quick as a ski racer at an Olympic downhill.
Reviews
"an alpine Midnight in the Garden of Good and Evil" Outside Magazine.
"An upper-crust detective story, unfurling a mysterious tale of arson.  Daniel Glick's book presents a real-life game of Clue with myriad suspects' offering a fascinating social commentary on the disparity between rich and poor, tourists and locals, resort owners and employees.  Chicago Tribune
A compelling, fast-moving, and eminently readable account of the most notorious act of eco-terrorism this country has ever known, in fact, environmental activists were actually the ones who set the fires.  Austin Chronicle
Engrossing, thoroughly researched, take-no-prisoners whodunit on the Vail fires. Vail CEO Adam Aron is furious about this book. Curious?  Skiing Magazine
A detective story where the crime turns out to be nowhere near the most evil act. Glick deserves real praise for telling a fairy tale for our age, in which the evil stepmothers pretty much control everything and come out on top at the end.  Bill McKibben in The Washington Monthly
A work of investigative journalism that begins as a whodunit and ends as an indictment of the supposed victim. Glick's greatest accomplishment is his insightful critique of the ski business.  St. Petersburg Times
A harder-edged look at Vail in the guise of a detective story.  Glick absolutely pegs the social tensions existing today. A superb cautionary tale that ought to be taken seriously. You should read this book.  Vail Daily
Creating a fascinating analysis that goes far beyond the question of who started the fires. The next time [Colorado readers] ski at Vail, they might think twice about the wages and living conditions of the person serving them at the newly rebuilt Two Elk Lodge. Rocky Mountain News
Combining solid investigative reporting with engrossing accounts of high-stakes wheeling and dealing and tantalizing glimpses of the glitzy life of the superrich, this is an irresistible story which, in Glick's hands, also reaches provocative conclusions about the more wide-ranging conflicts that beset the so-called New West.  Publishers Weekly
Praise for Powder Burn
Daniel Glick's dark parable of the post-Western West has it all: an unsolved whodunit with a Hayduke-style scapegoat; a deft portrait of Wall-Street-infected Colorado' incurable socio-political dysfunction; a Dickens-worthy rogue's gallery of the out-of-state over-moneyed and local over-powered and poor; and about a thousand gruesomely hilarious reasons to leave that corporate carcass-in-the-sky, Vail, to the Drooliannaires who think they own it, and to the samurai powder-hounds and lone lynx who truly do.

DAVID JAMES DUNCAN, author of The Brothers K and The River Why
Powder Burn is a riveting story. I hope and pray that Daniel Glick's book is not a harbinger of the environmental battles to come. I fear, however, that it may be.
RICHARD D. LAMM, former governor of Colorado
Vail, with its deep powder snow and high and fast society, is the siren song for the New West. When arson hit the ski area, Daniel Glick covered the story, which grew into this startling account of seized opportunities, memorable characters, mystery, and the endangered lynx. Powder Burn exquisitely and authentically captures a fascinating place and time.
CHARLES WILKINSON, Moses Lasky Professor of Law, University of Colorado, and author of Crossing the Next Meridian and Messages from Frank's Landing
Powder Burn is a lively whodunit with more twists, turns, and surprises than a double black diamond ski run. Daniel Glick's masterful book keeps you asking who did what to whom.
LEN ACKLAND, author of Making a Real Killing: Rocky Flats and the Nuclear West